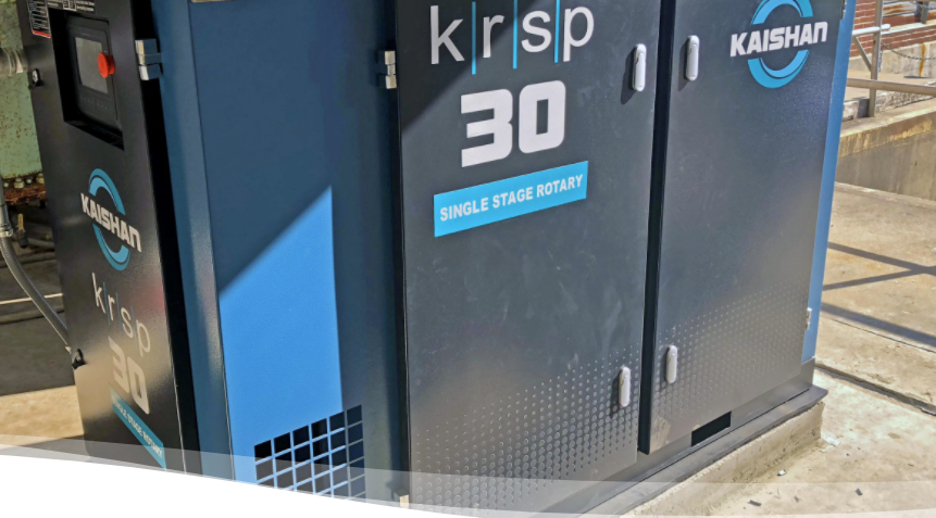 The heart of many industrial facilities is the compressed air system. Clean, reliable compressed air can be used for a multitude of operations. Problems with the compressed air system can ripple through the entire facility, affecting productivity in many ways. Choosing an air compressor that meshes technology with reliability is key to maximizing efficiency and reducing or avoiding unplanned downtime. Tate proudly offers Kaishan compressors because of the value, efficiency, and reliability the compressors offer.
Energy Efficiency
Kaishan air compressors use state-of-the-art technology to deliver air as efficiently as possible, minimizing the energy bill for the end user. Kaishan offers a wide range of options to fit many different facility needs, including belt-driven and direct-drive models. Kaishan rotary air compressors can match their output to the facility's needs. The compressor can run at 100% when demand is high, or cycle down to match the needs of the facility when less air is being used. By being able to run at lower speeds, the energy efficiency of the compressor is greatly increased, meaning less power is used to do the same work. This ability also keeps the air compressor from short cycling, kicking on and running for just a couple of minutes before cycling off again, which extends longevity.
Reliability
Kaishan compressors are constructed with durability and reliability in mind. With their ability to withstand high temperatures and high humidity, your air compressor won't quit when you need it most.
Due to the advanced vibration isolation used in their construction, no special bases are needed either. By preventing vibrations from spreading out from the compressor, the reliability and longevity of the air compressor are increased as well. Kaishan air compressors also have some of the best warranties in the industry - some of the airends hold full lifetime warranties.
Technology
One of the problems with many older compressors is that they couldn't talk to you or tell you what's wrong. Kaishan air compressors use cutting edge control systems to minimize downtime and provide operators with as much feedback as possible. The control system is able to operate without a human operator and will detect faults automatically. If a fault is detected, the system springs into action to proactively mitigate any damage or further problems.
For facilities that have multiple compressors, Kaishan control systems can be used to sequence up to 16 compressors in the desired order. With MODBUS, a lot of information can be communicated from the compressor to a building automation system or control center. Preventative maintenance schedules can also be programmed on the compressor's control system to help remind operators when to do maintenance, and remote monitoring is now available.
Kaishan Air Compressor Users
Kaishan is the third largest compressor manufacturer in the world, and a recognized name throughout multiple industries. Their reliability and performance speak for themselves, which is why Kaishan is so well-represented in the industrial sector. Some of the main industries where you might find Kaishan compressors include:
Automotive
Aerospace
Agriculture
Food & Beverage
Dry Cleaning
Chemical & Petrochemical
Glass Industry
Metal Fabrication
Printing
Kaishan air compressors deliver clean and steady pressurized air, making them perfect for powering tools and equipment like pneumatic lifts, painting, and machine tools. Their ruggedness and reliability is why they are so widely adopted in the agricultural industry. The cleanliness of the air their systems deliver also makes them ideal for food and pharmaceutical production facilities. Although these industries have different needs and requirements for their compressed air systems, Kaishan has been able to deliver for more than sixty years.
When cleanliness, efficiency, and reliability matter, choose Kaishan. If you need a compressor for your facility, get in contact with the team at Tate Engineering. We're the exclusive partner of Kaishan for the Mid-Atlantic states.